Traffic School Information
If you elect to enroll for traffic school you must pay the fine plus a State/Court surcharge fee before your court date or extended due date. If you failed to elect to attend traffic school, you will be unable to request traffic school at a later date. You will have 90-day Traffic School installment payment plan is also available, but you must contact the court and enter into an approved plan prior to your court date or extended due date.
Traffic school election can be done by mail, in person, or by using the online or phone payment option. However, if there are any correctable or "fix-it" violations on your citation, traffic school election can only be done by mail or in person.
If you are eligible for traffic school and have a correctable or "fix-it" violation, you will need to mail or bring the proof of correction with the fee(s) to the Court and request to attend traffic school.
It will be your responsibility to:
1. Elect to attend Traffic School and post Traffic School Bail on or before your appearance date or extended due date. Traffic School elections made untimely or without payment of full Traffic School Bail or an approved Traffic School installment payment plan will not be accepted by the Court.
2. Select a school and enroll. The traffic school will charge you a separate enrollment fee. If you were charged with multiple violations, contact the court for the amount due.
3. Complete a DMV-approved traffic school within 90 days. Upon completion, your violation will be reported to DMV as a confidential conviction.
The Court will be able to retrieve an electronic completion certificate from the School/DMV five (5) business days after you have successfully completed Traffic School.
Failure to complete Traffic School or pay a Traffic School installment plan as ordered will result in the Court converting the fee to bail and declaring it forfeited and reporting the forfeiture as a conviction to DMV. Further, you may be charged with a Failure to Pay Fine (VC 40508b), imposed a civil assessment of up to $300.00, referred to a collection agency, and/or a notice forwarded to DMV to place a hold on your driver's license.
· You must have a valid driver's license.
· You have not attended or elected to attend traffic school in the past 18 months.**
· You have no outstanding Failure to Appear or Failure to Pay.
· The citation involves a moving infraction and does not involve any drug or alcohol violations.
· You were not speeding more than 25 mph over the posted limit.
Please note: Commercial Drivers are not eligible for Traffic School if cited while driving a commercial vehicle. For moving violations occurring on or after January 1, 2013, holders of commercial driver licenses cited while operating a vehicle that requires only a Class C or Class M license (such as a personal/non-commercial vehicle) may be eligible to attend traffic school. DMV will not mask the conviction from view on a person's driving record; however, no points will be assessed.
NOTICE: If you are eligible and decide not to attend traffic school, your automobile insurance and driving record may be adversely affected. One conviction in any 18-month period will be held confidential and not show on your driving record if you complete traffic school. If you complete traffic school when legally ineligible for a confidential conviction, DMV will remove confidentiality of the conviction from your driving record and the conviction and violation point will appear on your driving record at the DMV.
**The 18-month eligibility period for a confidential conviction after completion of traffic school is determined from violation date to violation date.
For additional traffic school eligibility information, refer to California Rules of Court, Rule 4.104.
---
You can attend any DMV-approved traffic school. To locate a DMV-approved traffic school, use the on-line locator service operated by DMV at: https://www.dmv.ca.gov/wasapp/olinq2/display.do?submitName=Display&ol=E0463~T~E0463~00 . If you do not have access to the Internet, you may call the Department of Motor Vehicles, Business Licensing Unit at (916)229-3127 and request a list of traffic violator schools be sent to you via mail or FAX. You may also use the link provided below to go to DMV's website.

Click here for DMV's approved Traffic Violator School offering Internet
After submitting your completion certificate in the court, your ticket will be removed and it will not come on your CM DMV driving record.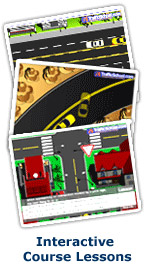 How To Fulfill Your Traffic School Requirements
If you are scared of going to the classrooms to get the certificate to drop your ticket then you do not need to be worried at all. You do need to go to the classroom and to learn the things with the groups. The new and online traffic school education is improved and convenient. You only need your computer and an internet connection to go ahead with your education.

The Simple Way to Erase Traffic Tickets in California
For the most non-criminal traffic tickets, you should go for the online traffic school classes for managing your traffic citation. There are many benefits of choosing the traffic school online courses. First of all, if you complete the course successfully with a certificate then it will remove points from your driving record and will also lower the insurance rates. You can get this job done staying at home without visiting the attorney. Another thing is that the traffic school online will be convenient, reliable, easy, and fast.
Traffic School Course
What should I do if I get a traffic ticket? For the majority of non-criminal traffic tickets, the smart choice for handling your traffic citation is taking our Los Angeles County Court Accepted Traffic School Class Online. There are several reasons why going to traffic school online is the wise choice:
Successful completion of an approved traffic school course will remove points from your driving record and keep your insurance rates low.
Taking traffic school allows you to stay home and you never have to go to court or talk to an attorney
Doing traffic school online is easy, fast, and reliable when you choose OnlineTrafficEducation.com, the nation's leader in online traffic school.
Finish Your Traffic School Requirement in a Day
After receiving the traffic citation in your Hawthorne City state, you will have to read the front and back citation with full attention. Then you will have to check the due date. If you are interested in getting the certificate from the traffic school then make sure that you have received the certificate before the due date. Even if you get the certificate in the due date, still you will be able to clear your tickets without any delay. You just need to submit it before the due date without any exception. These courses will be accessible instantly. Moreover, you will get a rush certificate possessing option to meet your deadline demands. You will have to choose any of the suitable options to submit the certificate before the time.
OnlineTrafficEducation.com has been in this industry since 2001. It is one of the leading traffic schools online that help the aspirants to get certificates. They have decades experience in this job. They understand all the requirements that include state approved defense driving, DMV licensed programs and driver improvement programs.
Do you want to take benefits from those online courses? Do you want to get a certificate to enter the citation? Are you searching an easy, convenient, and affordable online course? Do you want to download the CA DMV application form? If yes, you can visit OnlineTrafficEducation.com. This website can offer you information about the traffic school, driving record, driving insurance, and traffic ticket information.
Got a Ticket Outside of Hawthorne City, California?
The worldwide leader in traffic school and defensive driving safety courses, OnlineTrafficEducation.com offers driving school courses for licensed adult drivers and soon to be teen drivers for a variety of other drivers DMV, Driving School, Driving Safety, and More.